Top of the Bay Kiwanis Club
"Kiwanis is a global organization of volunteers dedicated to changing the world one child and one community at a time"
The Kiwanis Club of Top of the Bay is part of Kiwanis International, which is a global organization of service minded men and women volunteers who have responded to the unique needs of their communities.
Like Kiwanis International, our Club is made up of concerned men and women who want to make a difference in the lives of today's children and the community. Why don't you join us. You'll be glad you did.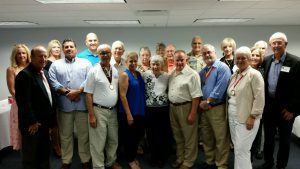 Top of the Bay Kiwanis donated $1000 to Clothes to Kids and welcomed guest speaker, Megan DiBlasi, Development Director from Clothes to Kids this past Tuesday, Jan 4th. For details on their wonderful community effort and benefit visit them at thier www.facebook.com/clothestokidsinc/about/?ref=page_internal Facebook page or at Clothes To Kids clothestokids.org/ website. Check presented by Mark Lightsey, Kiwanis Div. 12 Lt. Governor. ... See MoreSee Less

Load more
What is Kiwanis?
Here is a quick video that explains what Kiwanis is.
Interested in learning more? Please contact us or apply to join our Kiwanis club here.