Top of the Bay Kiwanis Club
"Kiwanis is a global organization of volunteers dedicated to changing the world one child and one community at a time"
The Kiwanis Club of Top of the Bay is part of Kiwanis International, which is a global organization of service minded men and women volunteers who have responded to the unique needs of their communities.
Like Kiwanis International, our Club is made up of concerned men and women who want to make a difference in the lives of today's children and the community. Why don't you join us. You'll be glad you did.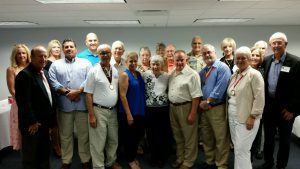 November 23rd, Top of the Bay Kiwanis Club aided the Salvation Army in the distribution of an approximate 1200 turkeys with sides in support of local individuals and organizations to feed the needs of the community for this Thanksgiving Holiday. Thanks to Steve Puleo, Div. 12 Lt. Governor Mark Lightsey and Mike Michael Crippen. Happy Thanksgiving to all! ... See MoreSee Less

What a great event, helping to feed our local families
Load more
What is Kiwanis?
Here is a quick video that explains what Kiwanis is.
Interested in learning more? Please contact us or apply to join our Kiwanis club here.