Top of the Bay Kiwanis Club
"Kiwanis is a global organization of volunteers dedicated to changing the world one child and one community at a time"
The Kiwanis Club of Top of the Bay is part of Kiwanis International, which is a global organization of service minded men and women volunteers who have responded to the unique needs of their communities.
Like Kiwanis International, our Club is made up of concerned men and women who want to make a difference in the lives of today's children and the community. Why don't you join us. You'll be glad you did.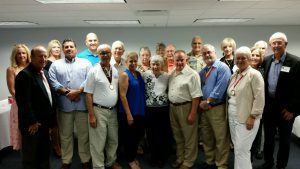 Such an AMAZING meeting yesterday!!! We celebrated a birthday for long-time member Wilber Van Scoik (60-ish years of service to the children in our community). In honor of Wilber's 93rd birthday, in his name the club members contributed over $700 dollars to Carwise Mall, which provides clothing, socks, and personal items at no cost to the students in need at Carwise Middle School.

Our guest speaker was Fleur Van Buren, Florida Kiwanis Div. 12 Key Club Lt. Gov. It was great learning about all of the amazing work that the Key Clubs in our district are doing. Thank you, Fleur, for your time and all that you do to promote service and leadership in our community!

It was an awesome start to the new year.

If you are interested in volunteering / joining an organization focused on giving back to the kids in our community, please message us for details. We would love to have you!

#kiwanis #KidsNeedKiwanis #itsallaboutthekids Florida Kiwanis

Carwise Middle School PTSA Carwise Middle School Joseph L Carwise Middle School Joseph L. Carwise Middle School ... See MoreSee Less

Load more
What is Kiwanis?
Here is a quick video that explains what Kiwanis is.
Interested in learning more? Please contact us or apply to join our Kiwanis club here.