Top of the Bay Kiwanis Club
"Kiwanis is a global organization of volunteers dedicated to changing the world one child and one community at a time"
The Kiwanis Club of Top of the Bay is part of Kiwanis International, which is a global organization of service minded men and women volunteers who have responded to the unique needs of their communities.
Like Kiwanis International, our Club is made up of concerned men and women who want to make a difference in the lives of today's children and the community. Why don't you join us. You'll be glad you did.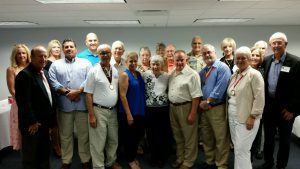 Great morning meeting … with Chaplain CJ Messina and members from other Kiwnais clubs … and a visiting dinosaur. Also, we had an opportunity to welcome David Pratt of Century 21 to the club! What a great morning! Thomas A. King Jr. Unpack Oldsmar with Cyndi Olmstead ... See MoreSee Less

I always receive great information from these meetings. I know you all wanted to try my flip-flops on. 🤣
Great meeting. Thank you to the Kiwanis Club of Dunedin, Safety Harbor and Largo Mid Pinellas for their visitors.
Happy to belong to such a great organization
Load more
What is Kiwanis?
Here is a quick video that explains what Kiwanis is.
Interested in learning more? Please contact us or apply to join our Kiwanis club here.